Once we got RoundUp in our arsenal, we could start conquering the California grass. There were a few remnant taro plants out there, probably from the old days when this was a taro farm. We gave them a little fertilizer and space, but not much else.

One day on a lark we harvested a clump of taro. At home we cooked the whole plant (leaves, stems, and chopped up corm) in a pressure cooker with coconut milk and salt. The idea was to make something resembling palusami, a tasty treat sold at Samoan groceries. It was awesome!

(You can get a real recipe for palusami at http://www.samoa.as/recipe2.htm.)













Lenny's horses were a treat in the early years. These shots were taken on "the island" in March 1994. Above Jonah and Lucy say hello to Fancy. Then Jonah helped Pua get up on Fancy. You could say Vinny rode Nik Nak a little (note the rope, cowboys).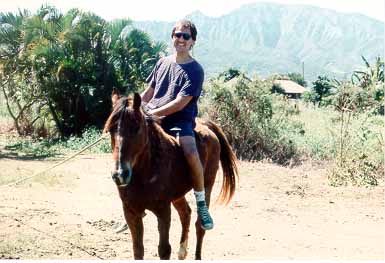 The standard swamp day in winter started with a crack of dawn surf (most days we were the first guys in the water, sometimes a good half hour before first light). Below is Jonah screaming in a Haleiwa Ali'i barrel on the E.O. 3/94